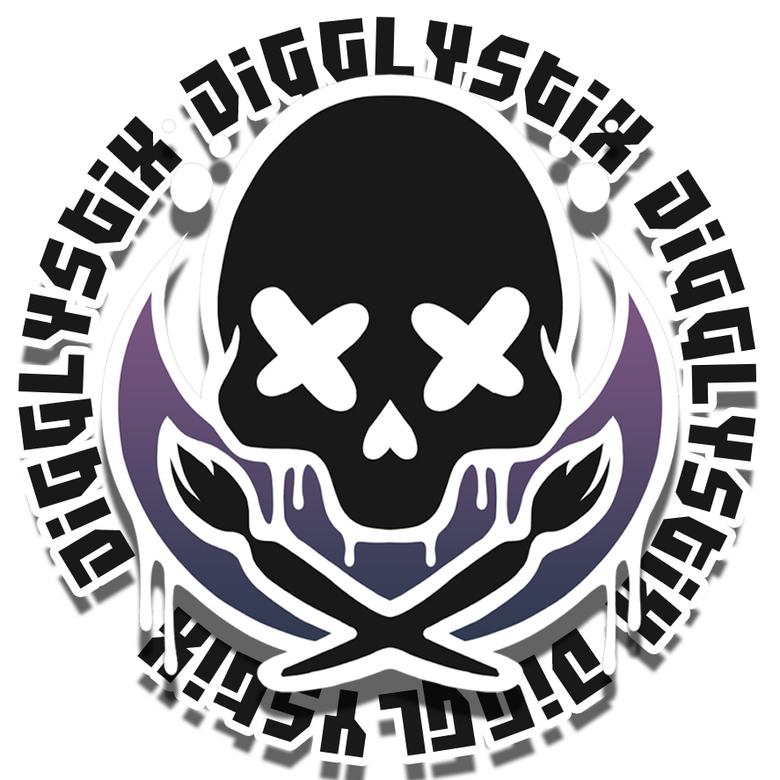 Jigglystix
Freelance 3D Printing Digital Sculptor
Personal commissions are currently CLOSED for the time being. If you are interested in a freelance employment opportunity, please feel free to message me directly!
The prices listed below should be treated as starting points for personal commissions. Prices vary based on complexity (has a lot of props or mechanical pieces) or may qualify for a discount if it is a popular fandom character.Payment plans are available! You can find out more here or feel free to ask about these!Please read the terms or faq for any additional questions, or feel free to reach out!
---
• 1/10th Scale Figurine(s) ➡ $600*
STL file(s) of a posed figurine containing a fully posed figurine scaled to fit any size you wish. (i.e. 178mm, 7 inches-12 inches, etc).
This option allows for more detail such as fabric textures, intricate bases, small items, and requires print keying (broken into interlocking parts).Price varies based on complexity of the commission. File(s) will come pre-supported and unsupported for scaling purposes.
---
• Miniature(s) ➡ $250*
STL file(s) of a miniature containing a fully posed figurine scaled to fit any size you wish. (i.e. 50mm, 28mm, heroic scale, etc).
This option is for lesser details and simple miniature/tabletop style bases. These are designed to print whole or in as few pieces as possible.Price varies based on complexity of the commission. Bulk/set discounts available. File(s) will come pre-supported and unsupported variations, and test print verified.
• Bust ➡ $100*
An STL file containing a bust of a character design of your choosing, often cut at the mid chest and shoulders. Default sizing is typically 3 inches/75 mm but can be requested at different sizes.These have a basing designed to match or compliment the bust, but if you wish to add it to a plinth or other base, please let me know.
Interested? Get in touch!
*All prices are subject to change based on complexity of project, number of models commissioned, and market demand.
TERMS OF SERVICE
If you wish to discuss a freelance opportunity/professional employment, please reach out to me directly via email as these terms and commissions are for personal uses and non-commercial licensing.
Commissioning
• All work will be posted online to my social media and/or portfolio unless the client requires an NDA.• Client must provide at least one reference image. The more references the better!• I reserve the right to decline requests (uncomfortable subject material, poor references, not interested, etc).• I will create NSFW pieces but all characters must be 18+. Please read the FAQ for more information.
---
Payments & Discounts
• Prices are listed in USD and are determined based on time and difficulty.• Payments are through PayPal invoices only.• Payments can be divided into multiple payments with work starting at 50%. See the FAQ for more details.
---
3D Printing
• You are purchasing an STL file(s) of the character. All STL file(s) will be free of any printing errors and come pre-supported upon request.• Upon request, a label guide for slotting/putting together prints can be made.• All prices assume you have some means of printing. If you do not have access to a printer, I can offer print services if requested, but see the FAQ for details.• I will help support and resolve any issues with printing where possible.
---
Delivery
• There may be a queue in front of your commission. I will let you know the estimated wait time and keep in touch with you.• I will provide a wetransfer.com link to you to transfer all files necessary in a zipped package.• Any commissions on a payment plan will receive the delivery of items on receipt of final payment.
---
By starting a commission, you are acknowledging you have read and agreed to all the information provided here today.
Age Verification
You must be at least 18 years or older to enter.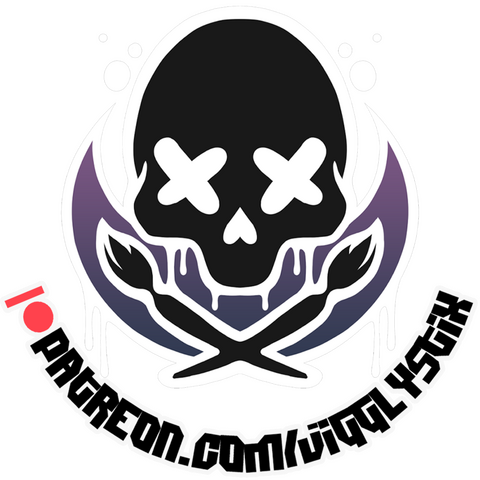 Freelance 3D Printing Digital Sculptor
Ex-database guy turned freelance 3D print sculptor specializing in character and creature collectibles and miniatures. Emphasizing figurine and resin printing, but also experienced in the full game character workflow including retopology and texturing.Best Contact Methods:
Twitter: @jigglystix
Email: jiggl[email protected]
Social Media
Hard Skills
Digital Sculpting

3D Character Modelling

3D Hard Surface Modelling

Character Design & Concepting

3D Texturing

Software Development
Soft Skills
Material and Shaders

Digital Painting

Digital Illustration
Softwares
zBrush

Marmoset Toolbag

Unreal Engine

Blender

Substance Painter

Substance Designer

Photoshop

Gimp

Krita

Clip Studio Paint

Procreate

Nomad Sculpt
Please do not resale my works. All works presented are Non Commercial and are only for Personal Use unless otherwise stated/adapted under the following licenses.
All models are distributed with an Attribution-NonCommercial-ShareAlike 4.0 International (CC BY-NC-SA 4.0) license.
---
SHOP
Support
Social Media
Q. Do you cover paypal fees?
All prices include Paypal's fee, but if you prefer to pay the fee yourself I won't mind!Q. How do you come up with your prices?
A. They are an accumulation of hours spent on the process, experience, and demand. Prices will fluctuate based on supply and demand.Q. Can I do a payment plan?
A. Yes, I will require at least 50% upfront to start work, and then we can break the remainder into payments if needed with final payment prior to product delivery.Q. Do you offer refunds on any work in the event there is an emergency?
A. There will be no refunds on any part of the commission unless I feel I am unable to complete the commission or your commission is canceled for whatever reason.
Q. Do you paint the models you make?
A. Unfortunately no; I currently do not possess the means of painting models at this given time. This may change in the future down the road but that is still TBD.Q. Can I get multiple versions of a character?
A. Yes! These would incur an additional alternate version cost.Q. Does a different pose count as an alternate version?
A. No! These will only incur a small additional pose fee. Please let me know upfront if this is what you are requesting and not an alternate version.Q. What classifies as an alternate version?
A. An alternate version would be different armor/clothing or the addition of clothing.Q. Will multiple versions of the same character cost the same as two models?
A. Not at all! There will be an added cost for the extra work done, but if it is the same character, this allows to save costs and time. These would incur an additional alternate version cost.Q. If I get multiple versions or characters, can I get a discount?
A. Unfortunately, no. These things take time to add and create.Q. Do you make fan arts of existing/licensed characters?
A. Yes, but must meet one of the two below criteria beforehand.If they are a fandom character (such as zelda, link, mario, any anime character, etc) and an original take on the character (I'd like to avoid legal troubles). These characters will also apply for the popular character discount.If the character is someone else's OC or like a vtuber avatar, I will ask you to contact the owner of the character and ask for permission to use it. I will request that you provide written/screenshot proof of permission before any work is started.e.g. I will not help recreate a figurine currently in production, an amiibo, or a model of a vtuber without permission.Q. My character doesn't have legs, does it qualify for for half body/bust pricing?
A. Genie, ghost-type, and characters without legs (such as lamia) do not count towards half body/busts unless it is from the waist up. Any of these characters will be treated as a full-body commission with a Simple discount* unless stated otherwise.Q. Can I sell the figurine you did for me?
A. You may sell prints of any models you commission; however this does not apply to models distributed in store fronts that I sell. Please note all my files are created with Attribution-NonCommercial-ShareAlike 4.0 International (CC BY-NC-SA 4.0) license in mind. This means you may adapt my works so long as I am credited, but please do not resale any files provided via storefronts.Q. Do you sell the models I've commissioned from you? Would you if asked?
A. No, I will never sell a model commissioned or on your behalf. Once you've purchased a figurine, that model is yours to keep and decide what to do with as you now own all rights to said model.Q. I really like this character you did for X. Can I get it?
A. No, I don't sell nor distribute the files of my clients. If you want to print their character, you will have to contact them and ask them.You can also find a list of figurines and miniatures at my many store fronts in the About Section.Q. I asked for a commission, but then realized I couldn't pay. What do I do?
A. Just tell me and we can postpone or cancel the commission, no big deal. I understand things come up and emergencies happen. I will try my best to work around what works for you where possible.Q. What's the average delivery time?
A. Turnaround time on a model once started will typically take about a week, give or take time for complexity and volume of request. There may be a wait time to start work as other commissions in front of yours are completed. I will let you know the estimated wait time and keep touching base with you where possible. If you have any questions or concerns, please let me know and I will be more than happy to answer them for you.You can watch the progress of your commission at my trello board here.
Q. Do you print the models you sculpt?
A. Not all the time due to cost of materials, time to print, and assembly. I can offer these services at an additional cost if requested but going through a third party will often be more beneficial to both parties.There are two main companies which can print uncolored and colored models, Shapeways in the US, and i.materialize in the EU. It's quite easy to upload your file there, choose the material, and let them do the rest. Since they are larger companies and can operate in bulk, they will be able to print and ship faster and cheaper than I can.However, please keep in mind these companies have a few policies concerning adult content.Shapeways : you can print pretty much anything with uncolored materials, even lewd characters and futas. But when it comes to colored characters ( fullcolor sandstone ), sometimes they do it, sometimes they refuse. Technically they are OK with adult content but it seems like they outsource the color prints, and that can be a problem.i.materialize : they are not OK with adult and lewd stuff. You might be able to print a nude character, but it's better if genitals are covered.
Q. Do you make underage characters?
A. All NSFW characters must be 18 or older, otherwise fully clothed in a non-sexual manner.Q. What NSFW topics won't you do?
A. I will not create models that involve the below fetishes. This list is not definitive and I reserve the right to deny anything not on this list that will make me uncomfortable or that is illegal. Outside of these below, I am pretty lax with what you want created. If you're unsure whether or not I will make it, please ask!⁍ NSFW Loli
⁍ NSFW Shota
⁍ Scat (fecal matter)
⁍ Any versions of pedophilia